HR Support, HR Outsourcing and Consultancy Firm for SMEs in the UK
Confidently address your legal obligations as an employer, develop your team and resolve employment-related challenges in your business.
View Our Range of Services
Call Us: 01383 668178
HR and Employment Law Support where we listen to your business needs
Struggling to handle your HR? We at The HR Booth are here to help. As an HR consultancy firm in the UK, we offer a full range of services that help you deal with employing and managing people. We help business owners, Directors and managers across Scotland and the UK resolve people challenges within SMEs, helping them save time and money. This allows business owners to focus on the growing their business, knowing their people are being managed effectively. Our team work with business owners, Company Directors and managers across all sectors, including family businesses, professional services, third sector, manufacturing, engineering, trades and construction. We solve people problems which save time and money.
We have specialised in giving advice to managers since the 1990s on how to manage people, listening to the challenges and offering commercial, practical advice on how best to resolve. Having supported and advised hundreds of managers, we know what works. The HR Booth develop good rapport and relationships with clients and take time to listen and understand your business. 
As your local HR Consultants and HR Outsourcing partner, we support businesses across Scotland including Fife, Edinburgh, Perth, Dundee, Falkirk, the Lothians including Livingston, Bathgate, Linlithgow, Haddington and also Glasgow, Dunbartonshire and Aberdeen. We also support clients remotely using technology in locations including Preston, Merseyside, the Midlands and London. We can provide HR services anywhere in the UK. We would be delighted to hear more about your business.
✉ info@thehrbooth.co.uk
☎ Scotland – 01383 668178 or 0131 378 7988
☎London and England – 0203 375 1466
We know how to maximise your team's potential
By offering trustworthy HR support, we help clients develop their business by making sure their employees are engaged and motivated to   deliver results.
We help your people grow    
Through training and career development frameworks, we equip your people with the right skills that are essential to your business.
We're experts in meeting legal responsibilities   
Whether it's creating or updating your employment contracts or handbook, we provide ongoing advice to make sure your business is on the right side of employment law.
We know how to handle difficult conversations 
Our expert and qualified HR consultants will guide you through discipline processes, employee grievances and managing poor performance.
We support you, and your people, in times of change 
From creating an organisation design to managing employee redundancy, we make sure that your approach to HR keeps up with changes in your business.
Our Vision
A world where business owners and leaders are not afraid of people related challenges in their business, and where they are empowered and have the confidence to effectively lead their teams, whilst growing a successful business. We are changing the perception of HR and the way HR is done.  Not only do we help business owners sleep better at night, we become their go to people in times of need and times of change.
Local HR Support & Advice
UK-based HR support & advice
Trusted HR Advice
Whether you're tackling absence management, discipline, employee handbooks, or health and safety, our advice spans countless industries, positioning you for success.
Respected HR Support
Implement performance, conduct, or other solutions with the support of a team with over two decades of experience in the industry.
Local HR Consultancy
As a UK-based consultancy, we're always present and ready to provide assistance, no matter your needs or your UK location.
Comprehensive HR & Employment Law Support
As a full-service consultancy company, we offer support and services to manage all your HR necessities. No company is the same, so we tailor-fit our solutions to meet the needs of each client. 
We focus on supporting early-stage growth businesses, charities, family businesses and social enterprises in the UK. Browse our services below to see which best suits your company's current and prospective future needs. 
Absence Management
Contracts of Employment
Discipline and Grievance
Employee Handbooks
Employment Tribunal Insurance
Family Business
Health & Safety
HR Outsourcing
Recruitment and Selection
Redundancy
Training & Development
Employee HR Support/Guidance
Online HR Toolkit
Store employee data in our online HR toolkit for efficient management and access wherever you are.





Trust
– Gain and retain the trust of our clients by listening to their needs, be honest with them and have the confidence in our ability to make a difference to their lives and their business.
Relationships – Building successful relationships is integral to everything we do. We make a positive and lasting impression on people, work in partnership with our clients, suppliers and associates, encouraging and supporting them and their people, whilst remaining professional and positive at all times.
Quality – Be the very best we can every day, continuously improve and deliver on our promises, ensuring the quality of our work is consistently of the very highest standard.
Solutions minded – We are trusted business advisors, and we help create open and honest conversations, helping you make the right decisions to enable you to grow your business. We understand that one solution does not fit all and through taking time to understand you and your business, we will ensure we offer commercially focused solutions.
Agile and Responsiveness – Driven by our passion to be the very best, we put our clients first and respond to all situations in a timely manner, seeking always to exceed expectations. As an SME ourselves, we recognise the need to be flexible, respond quickly, think differently and provide practical, bespoke solutions.
Personal Development – To be the very best, we have the drive and ambition to continually develop our skills to the benefit of our clients and create an environment where knowledge sharing is encouraged. In an attempt to add value, we constantly seek to enhance our abilities by maximising our learning, looking for opportunities to make a difference for our clients, continually looking at areas where we can make a positive contribution to the success of their businesses.
FREE: Gazelle Scaling Up Coaching Information
Gazelle have a wide range of coaching programmes that will help you with scaling up your business. Find the perfect course for you in this brochure…
FREE eBook: The Kickstart Scheme
 Find out how we can support you with the Kickstart Scheme
You'll learn:
Employee/Placement ratio

Advertising of roles

Training costs

Payroll
FREE eBook: The Good Work Plan
How to understand The Good Work Plan and Apply it to Your Business.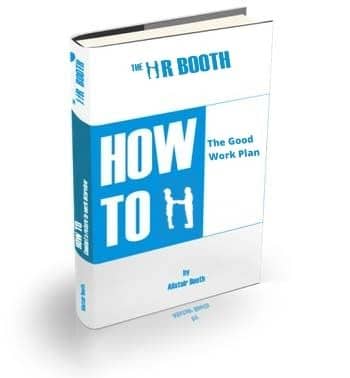 You'll learn:
 What The Good Work Plan is.
 Introduction of sanctions levied.
 Fixed working pattern.
 Updated holiday pay & more.
FREE eBook: Eradicate Short-Term Absence Forever
A simple, straightforward approach to managing short-term absence.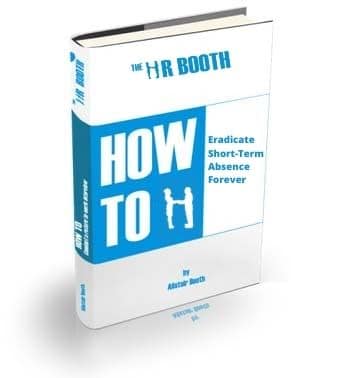 You'll learn:
How to conduct a return to work interview for line managers
What advantages both employers and employees gain from return to work interviews
How to conduct a return to work interview
A step-by-step process to eliminate the guesswork in your interviews
FREE eBook: How to Conduct a Fair Disciplinary Hearing
A simple, straightforward approach to manage a disciplinary process.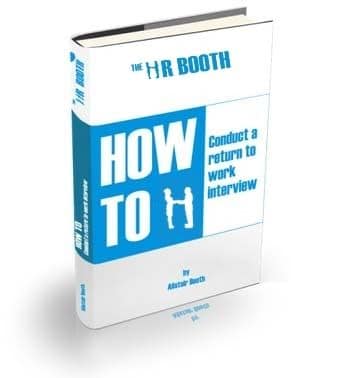 You'll learn:
How to investigate
How to conduct an invite letter.
Preparing for the meeting.
How to conduct the meeting.
Clients enjoying our professional HR services


"We've worked with HR Booth over the last 8 or so years. We've always found them to offer sound, expert advice in situations most, if not all businesses find alien to them. They will continue to be our trusted HR Partner of choice, hopefully long into the future."

"The HR Booth are professional, reliable, highly experienced and supportive.
Being a relatively new business, we rely on the expertise of the The HR Booth to help with areas where we have little experience and knowledge.
Having worked with Alistair and John for many years now, we know that we receive first class support and advice when needed and we would highly recommend them to anyone seeking HR support and services."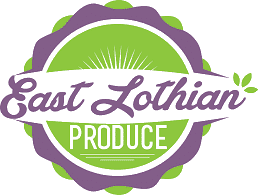 Alistair and John are always on hand to give advice. They offer a great service and always have an answer to any problems. In addition, I would thoroughly recommend HR Booth for any HR related problems.
Sign up to our newsletter
Please fill in the form to subscribe to our newsletter.
TAKE THE GUESSWORK OUT OF HR
Business-focused HR support & advice
Our monthly support plan means HR-related processes are simple, efficient, and work to the long-term benefit of your business.
Contact us today to discuss your business and how we can assist with all your HR needs.