Furlough & Training
We have shared a lot of information regarding Furlough over the past 10 days or so, and have successfully helped many businesses furlough staff, or give advice on the process to follow, if and when this process needs to be implemented.
We have updated our FAQs on Covid-19 to include many of the questions around furlough to assist you in your business, and details can be found here. If you still need assistance on any aspect of furlough, or anything relating to Covid-19, please let us know.
One of the positives we have identified is the fact that your employees can still participate in training whilst on furlough. This is particularly helpful if you perhaps would like them to brush up on some skills, for example product knowledge, IT systems, or leadership and management to name a few.
If you are experiencing a temporary closure or a temporary decline in work, it's more important than ever to invest in staff development whilst you have people on furlough. You really want to hit the ground running when the restrictions are lifted, and to do so it's important to have an engaged, highly skilled workforce. You will want your staff fully focused on your customers when things return to normal, therefore time off for training and development might be limited at that time, so now is as good a time as any to look at this.
Have a think about the type of training staff could be doing. For example, do your sales teams need support with influencing prospects, selling techniques using digital methods or a refresher on product knowledge? Do some of your admin team need additional support on things like Excel or other IT systems?
When identifying staff to be furloughed, think about the types of training and development they could be doing.
There's lots of information out there, and our friends at eCom Scotland also have a range of eLearning solutions you can view.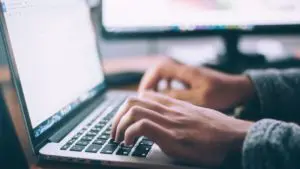 To support you and your managers, we are running our workshops as webinars – "lunch and learn" but bring your own lunch! We delivered the Good Work Plan seminars in March, and we have decided to run this as a webinar on Monday 6 April from 12 noon to 1330. Although things are very different now, the employment law changes that come in on 6 April are still going ahead, so if you missed our recent seminars you can join us online.

We have decided to deliver a different webinar each week for you during the month of April and May, and details for April are below. We are also happy to run a webinar on other topics for you and your teams.  If this is of interest, please let us know there are particular subjects you would like us to cover, and we'll look to arrange these for you.

These workshops are for you our client and anyone from your organisation, including any of your team who are furloughed at the moment, or who may be furloughed in the future.

Monday 6 April 2020 – The Good Work Plan (12 noon to 1330)

Wednesday 15 April 2020 – Social Media in the Workplace (12 noon to 1330)

Wednesday 22 April 2020 – Equality and Diversity in the Workplace (12 noon to 1330)

Wednesday 29 April 2020 – How to successfully Recruit and Select Talent (12 noon to 1330)

More information can be found here and to reserve your space, please email Calum – calum.anderson@thehrbooth.co.uk

We understand you might not always get the time to attend our face to face events, but we hope you can join us online over the coming weeks.