The cycle to work scheme can be a great way for you to encourage your team to work in a healthier way. Since lockdown began, more and more people have been taking up cycling. Furthermore, as lockdown restrictions start to lift and people return to work, there's a shift on people using public transport and encouraging people to cycle and return to work. Some towns and cities are now creating cycle lanes to make this happen.
Employers can take advantage of the Cycle to Work Scheme by offering this via salary exchange. This helps the business and the employee can save up to 40% off the cost of a brand-new bike. I've also recently taken advantage of this and purchase a bike for Harry and I and offered the scheme to our team.
How does it work?
The cycle to work scheme offers you the chance to grab a new bike and all the essential accessories you need totally tax free. Here's everything you need to take advantage of the scheme.
Cycle2Work allows you to save money and spread the cost of a new bike and accessories.
Cycle2Work the scheme acts as a tax break, which means you can get a brand-new bike without paying tax and national insurance on it. The cost of a new bike is spread out over a fixed period (either 12 or 18 months), with the employer deducting the money from salary before employees are paid.
The Government-backed scheme allows employees to save up to 42% on a new bike and any safety equipment. Cycle2Work has been going over 20 years and has helped millions of people buy low-cost bikes and accessories, like helmets, lights and locks.
What are the benefits?
The savings you can make are massive. In addition, it allows you to buy a brand-new bike and an armful of accessories You'll be keeping fit and healthy at the same time. I've really enjoyed getting out with Harry over the last couple of weeks and on my own. It's also a good way to take some time out and clear my head. The weather has been great and where I live in Fife there's some great places to go and enjoy the outdoors.
As an employer, the Cycle2Work scheme is completely free to sign up to. You'll benefit from healthier and happier employees who can beat the traffic on the commute!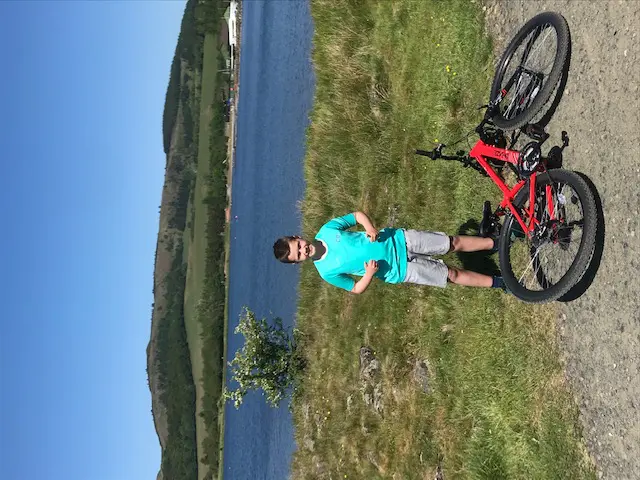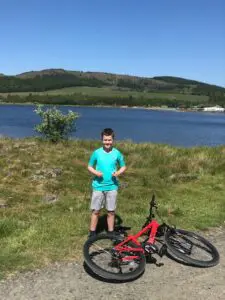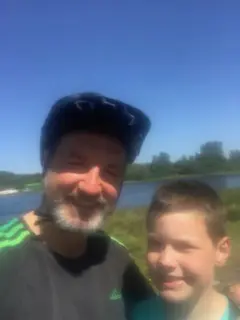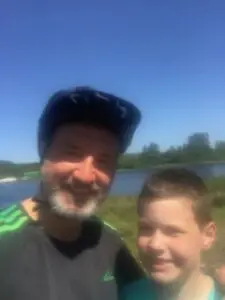 Cycling and Mental Health
Millions of working days are lost each year through conditions like stress and anxiety. Furthermore, the personal cost is even greater. It's an issue that every employer has a moral obligation to take seriously. One thing that all employers should be doing is encouraging their staff to cycle to work – it can also have a dramatic impact in improving mental wellbeing. Here are four mental health advantages of cycling:
· Cycling makes us mentally sharper
Making regular journeys by bike is an easy way to live a more active lifestyle. Aside from making us physically fitter, a number of studies have shown that cycling can also enhance brain function. It can make us sharper and more alert by speeding up connections in the brain. This could have the added benefit of helping us to be more efficient and productive when at work. In addition, making it easier to leave on time and achieve a healthy work-life balance.
· Cycling helps us to switch off
Whether we're at work or at home, technology is a massive part of our lives that is undoubtedly a force for good. At the same time, studies have shown that too much time glued to our phones and laptops isn't great for our health – mental or physical. In addition, getting the balance right and finding time to switch off is really important.
Cycling to work scheme not only boosts physical fitness, it has the added bonus of helping us put away our phones and focus on the world around us. In addition, giving us much-needed time to reflect and make sense of all the things we've got going on day-to-day. There's the extra bonus of more time spent outdoors too.
· Cycling helps us to manage stress and anxiety
As a form of exercise, cycling helps us control the hormones responsible for stress, which can help us stay in better control of our emotions. With workplace stress and anxiety on the rise, boosting our ability to take control of them is critical for our long-term mental wellbeing.
Workplace Facilities
Think about installing additional spaces for bikes in the workplace and encourage team members to cycle to work. You could also do team challenges, supporting health and wellbeing.
Want to find out more?
There are lots of providers across the UK. We can help you with this and support your wellbeing policy. If you would like to find out more about the cycle to work scheme, contact us now.